Hassle-free returns within 15 days. View return policy

Worldwide shipping available

Payment flexibility available through Shop Pay
What's in the box
Your Saber
Fully assembled saber based on your selected saber options.
Saber Tools
Any Allen keys/tools needed for saber assembly/modification
Saber Blade
Removable Saber blade in the length you've chosen.
Excludes initiate orders
Saber Charger
A smart charger will be provided for all electronics installed sabers.
Excludes initiate orders
Specifications
I love this saber!
This saber is so beautiful, love the chrome, I got the Xenopixel and couldnt be more happier! This is my first Xenopixel and now I know what ive been missing haha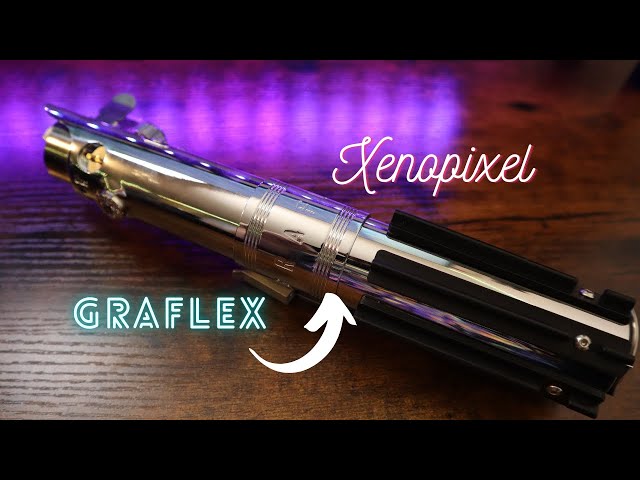 Best saber I own
This is the best saber I have ever gotten and I will forever cherish it as it was my first xenopixel lightsaber.
Great for the price
Little disappointed didn't come with inbuilt charging point, apart from that it's perfect.
Quick Ship Saber
Our saber blades (Excluding Pixel blades) are rated for full contact dueling. Capable of withstanding heavy dueling, even against kendo bokkens, and nylon hema wasters. During the machining process, some sabers may develop sharp edges. Before any contact dueling (as with any type of dueling), we recommend wearing proper safety protection for your hands, body and face. This includes but is not limited to: gloves, body armor, face masks, and helmets. Always take the proper safety measures before dueling of any kind. Saberforge is not responsible for any injuries that result from saber play, combat choreography or dueling.
No. We are not affiliated with Lucas ltd. or Disney. We do not make Star Wars replica light sabers from any of the movies, video games, comic books, etc.
Order changes are possible, however they are not guaranteed. We recommend double checking your order details to make sure everything is correct. If you need to make a change, email us as quickly as possible. If possible, we can update your order.
Back to top of page
$299.99